We have been making available various exterior custom products for the restoration enthusiast for almost as long as we have been in business. Our product availability includes custom fiberglass items, as well as some rare part replacement pieces and some custom electronics. Some parts are on-the-shelf, while others are built to order. The custom fiberglass products are available in both the out-of-the-mold and "partially finished" condition, where the bumper, if ordered finished, is sent in epoxy primer only and is NOT painted with any kind of automotive paint. This prevents damage in transit that would have to be repaired.

| | | |
| --- | --- | --- |
| | | |
| Unfinished bumper | Partially finished, and primered | Installed |
| $ 700 ( shipping not included ) | $ 950 ( shipping not included ) | |
Front bumpers are made to bolt up directly to vehicles, come with the fender mounting flanges on the rear sides, and unless the car has had frame or accident damage, will have a tight, neat fit. If you purchase one in gelcoat "out-of-the-mold" condition, you will have to do surface preparation, cut out the driving light openings, drill your fender bolt holes, and then prepare, prime and have your bumper painted. For this item, there is a crating charge of $ 60.00 due to the custom boxes that are used to ship these.

| | | |
| --- | --- | --- |
| | | |
| Complete Scanning Light | 12 Volt hookup | Interior on/off speed controller |
| $ 450.00 ( shipping not included ) | | |
We have been selling these scanning lights for over 20 years, and they are found all over the world. Installation is easy, and all you need is 12 volts, ground, and to feed the ribbon cable and wiring from the drivers seat area, through the firewall to the high power interface box and lightbar assembly. Installation instructions make it an easy afternoon project. Uses standard brake light 1156 bulbs, and with our designed circuitry, you get the smooth scanning with trailing effects you'd expect that you can't get with LED's. Incandescent lamps have a filament that comes on, goes to full brightness, and dims back down. LED's are digital items that are either on or off. There is no in between. The best you can hope for is a blink. The scanner is perfect for most applications. If you want a brighter and more far-away visible light, see the "High Power Scanner" below. Neither scanner has an "all-on" effect or any sound. But they do have an on/off speed controller that is mounted inside the vehicle.

| | | |
| --- | --- | --- |
| | | |
| High Power Interface w/ internal fan | Can be seen even with flash | Click on image to see video |
| $ 900.00 ( shipping not included ) | | |
Our super high power scanning light is above the regular scanner, but it is NOT for every application. Due to the extreme power drain, it is not designed for car shows, or any exhibition where the car will not be plugged in with shore-power. If you use this without keeping your car running, hooked up to a charger, or a separate battery for only its application, it WILL run down your battery. This scanner can be seen far away! It uses quartz halogen lamps and puts out illumination !!!

| | | |
| --- | --- | --- |
| | | |
| 3 piece tail-light cover: 1982 to 1985 | 1 piece tail-light cover: 1982 to 1985 | Amber or clear driving light set |
| $ 70.00 ( shipping not included ) | $ 80.00 ( shipping not included ) | $ 75.00 ( shipping not included ) |
| | | |
| --- | --- | --- |
| | | |
| KARR plastic plate, w/ metal frame | KNIGHT plastic plate, w/ frame | Fiberglass Hood Scoop * |
| $ 60.00 ( shipping included ) | $ 60.00 ( shipping included ) | $ 200 ( shipping not included ) |
* Do you have a plain-Jane flat Firebird hood? Have you wanted to get a Trans Am hood that has the hood scoop but did not want to pay $ 900 to GM for one and the high cost of shipping the steel hood? Then this add-on fiberglass Trans Am hood scoop is the perfect thing. Designed to be attached and feathered in by a body shop, once it has been riveted on, primed and painted, you will never be able to tell the difference. And while the air induction opening comes sealed, you can cut out the opening, add the functional hood scoop for ram air and get the full benefits. This new hood scoop comes in gelcoat white only and can be primed and painted with any automotive paint to match the hood/car. Add $ 30.00 for crating.
NOTE: This hood add-on option is NOT designed for self installation due to the body work involved in both mounting and seaming the edges into the surrounding metal. Unless you have advanced body-work experience, this product will need the professional services of a body shop.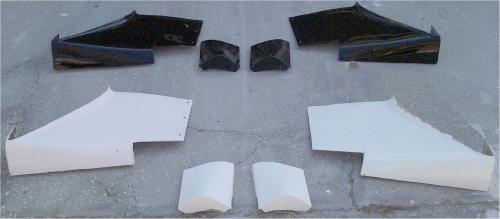 Full Ground Effects Set
Unpainted: $ 300.00
| | |
| --- | --- |
| | |
| Full Ground Effects Set | Full Ground Effects Set |
| Painted Black: $ 800.00 | Gelcoat Surface |
Has your car been limping along without or do you have damaged ground effects? Have you been trying to find the perfect replacements while scouring junkyards far and wide? Now we can help. Because of numerous requests, we are happy to be able to offer the front and rear ground effects parts for your 1982 thru 1985 Trans-Am's. These parts are made of durable fiberglass and will bolt right up to your fender and use the existing bodyline holes. You can order these pieces as either out-of-the-mold parts, or painted gloss black with clearcoat.
All material contained herein, pertaining to text, graphics, content, layout and design are proprietary to Marks Custom Kits, Inc. Any use without express written permission from Marks Custom Kits will be construed as a violation of the Copyright Laws of the United States. All images are of company products, services and capabilities and do not infringe upon any other entities or corporations.